---
HISTORY
EVERYTHING HAS A FUTURE WITH US – EVEN THE PAST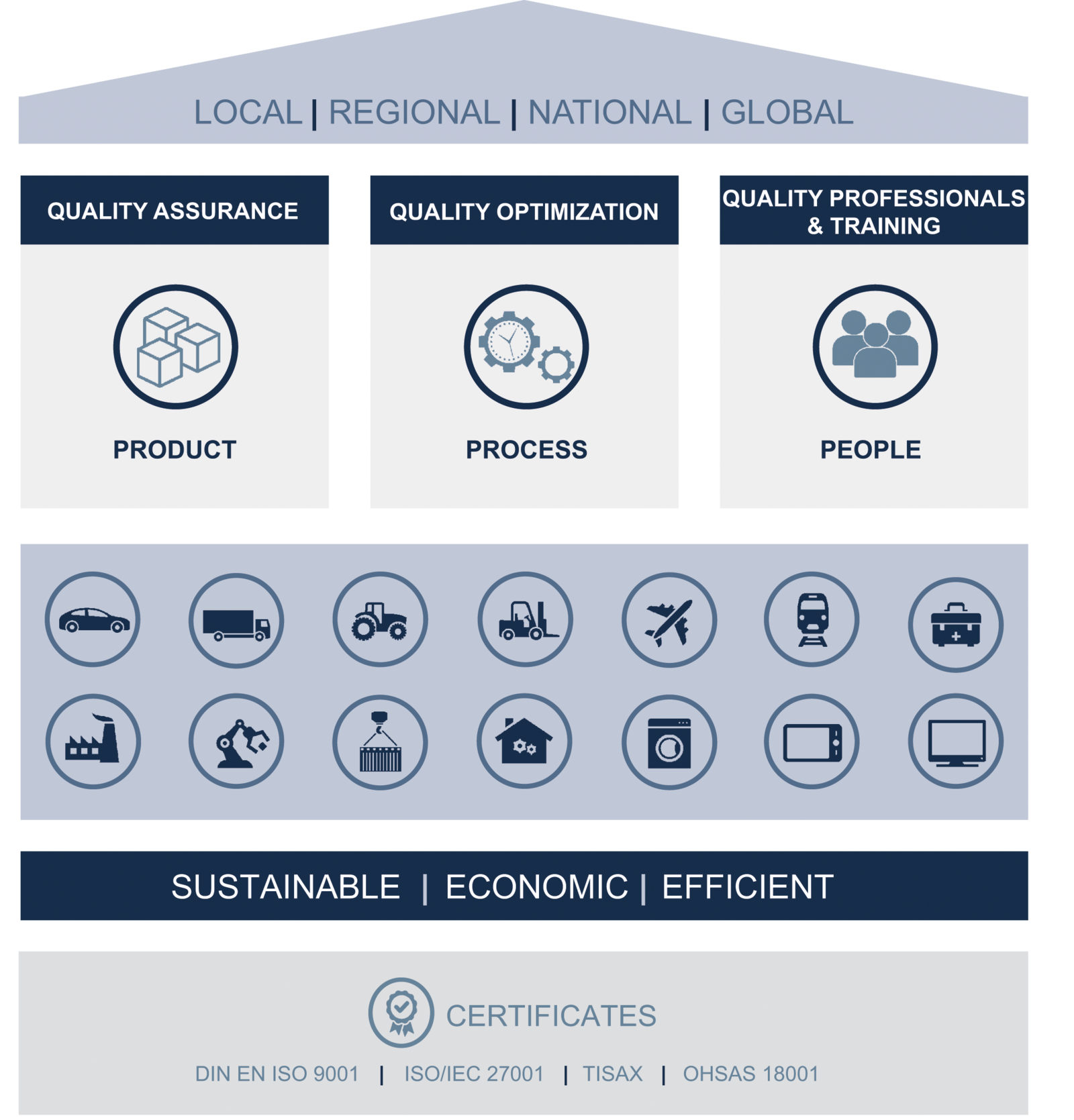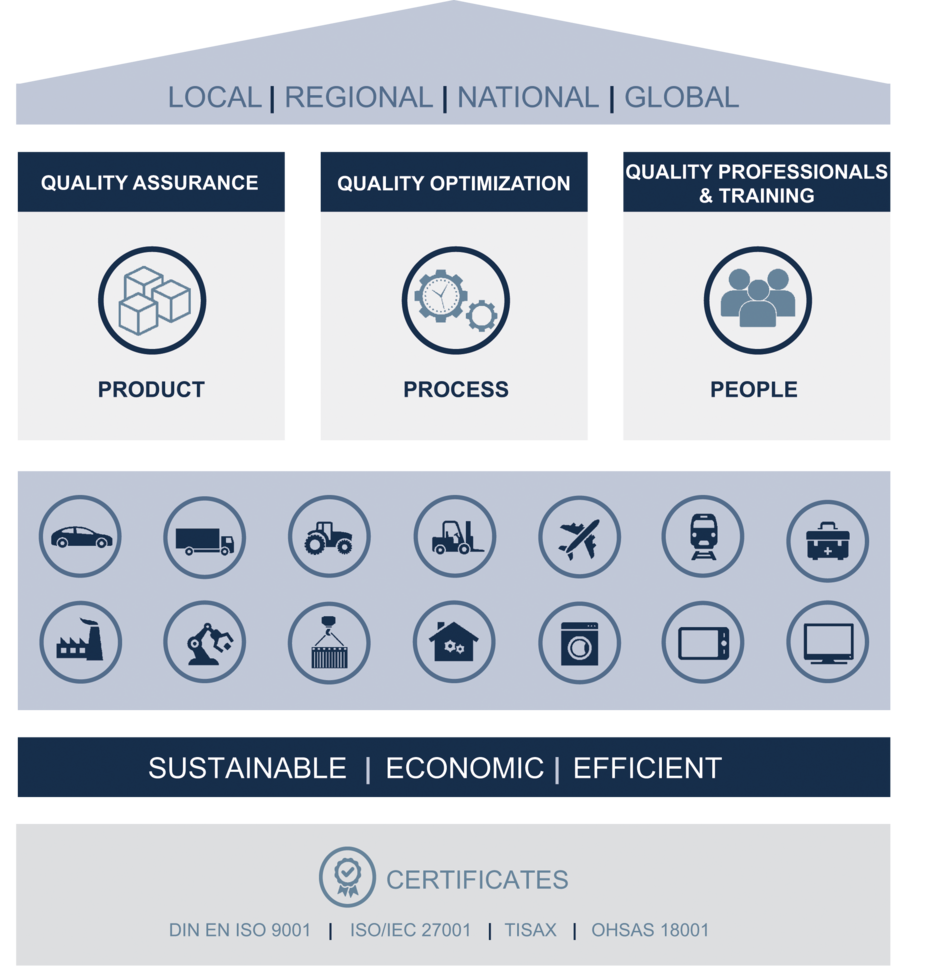 Renaming the departments
In 2018, the departments are renamed from Quality Consulting, Quality Engineering and Quality Control to:
Restructuring the departments
The Quality Consulting, Quality Engineering and Quality Control departments are restructured, and the service portfolio is divided into new fields of service:
Transfer of all companies
In line with the succession plan, the family-run business, including all of its companies, is transferred to the next generation – to Nicole and Christian Reitmeyer – in December 2014.
In addition, redi-Group Mexico is founded in Puebla in 2014.
Merger: redi-Group GmbH
In 2013, redi-Group GmbH and redi-Control Deutschland Süd-West GmbH merge to become redi-Group GmbH.

Furthermore, the redi-Group Austria branch is shut down.
redi-Group all over the world
redi-Group expands further and sets up more branches in the following countries:
People for Quality – 10-year anniversary for redi-Group
The company's philosophy is first expressed as a pithy slogan in 2006 at redi-Group's tenth anniversary: "People for Quality". This slogan is to highlight the company's philosophy lived out in the collective commitment of all employees to quality, and the focus on people in all thoughts and actions.
Additionally, the company wishes to tap into new areas of business and settle in Eastern Europe. redi-Group Eastern Europe is founded in Slatiňany (Czech Republic).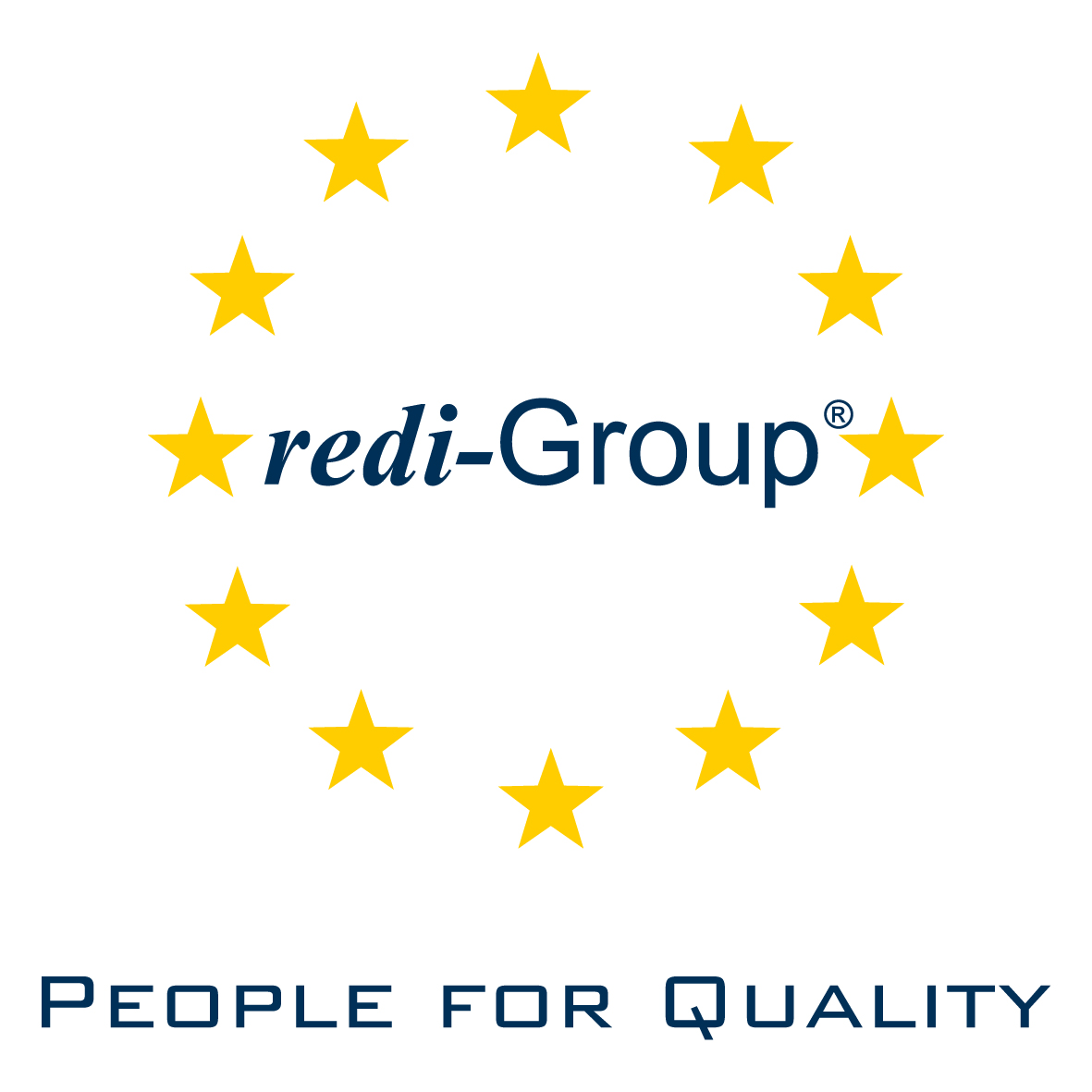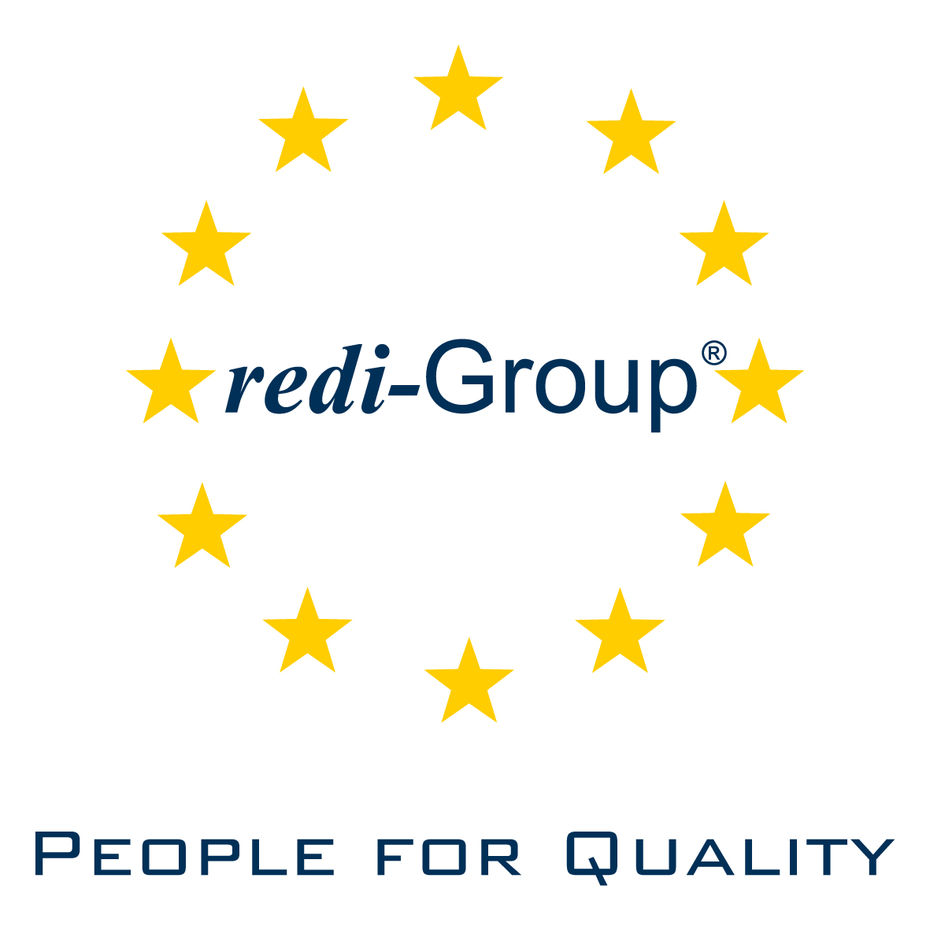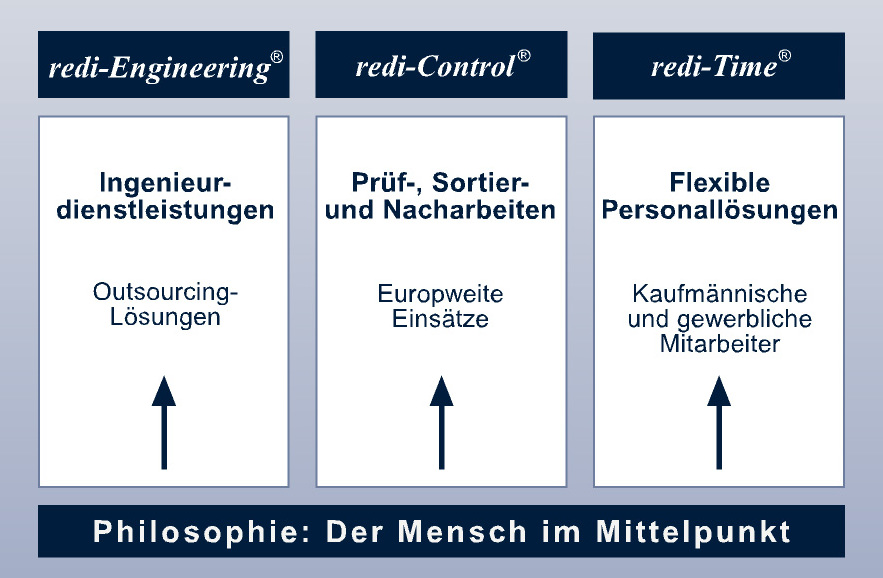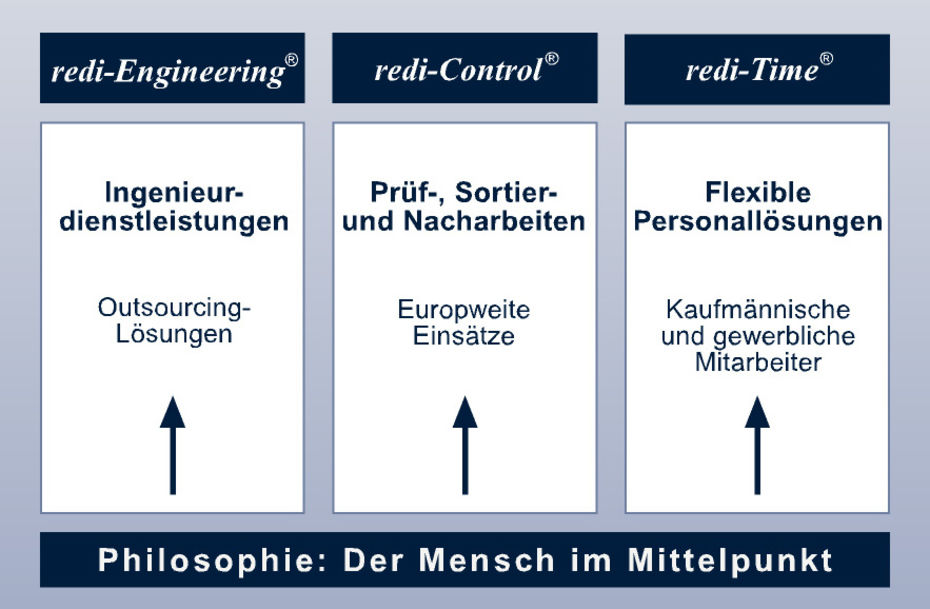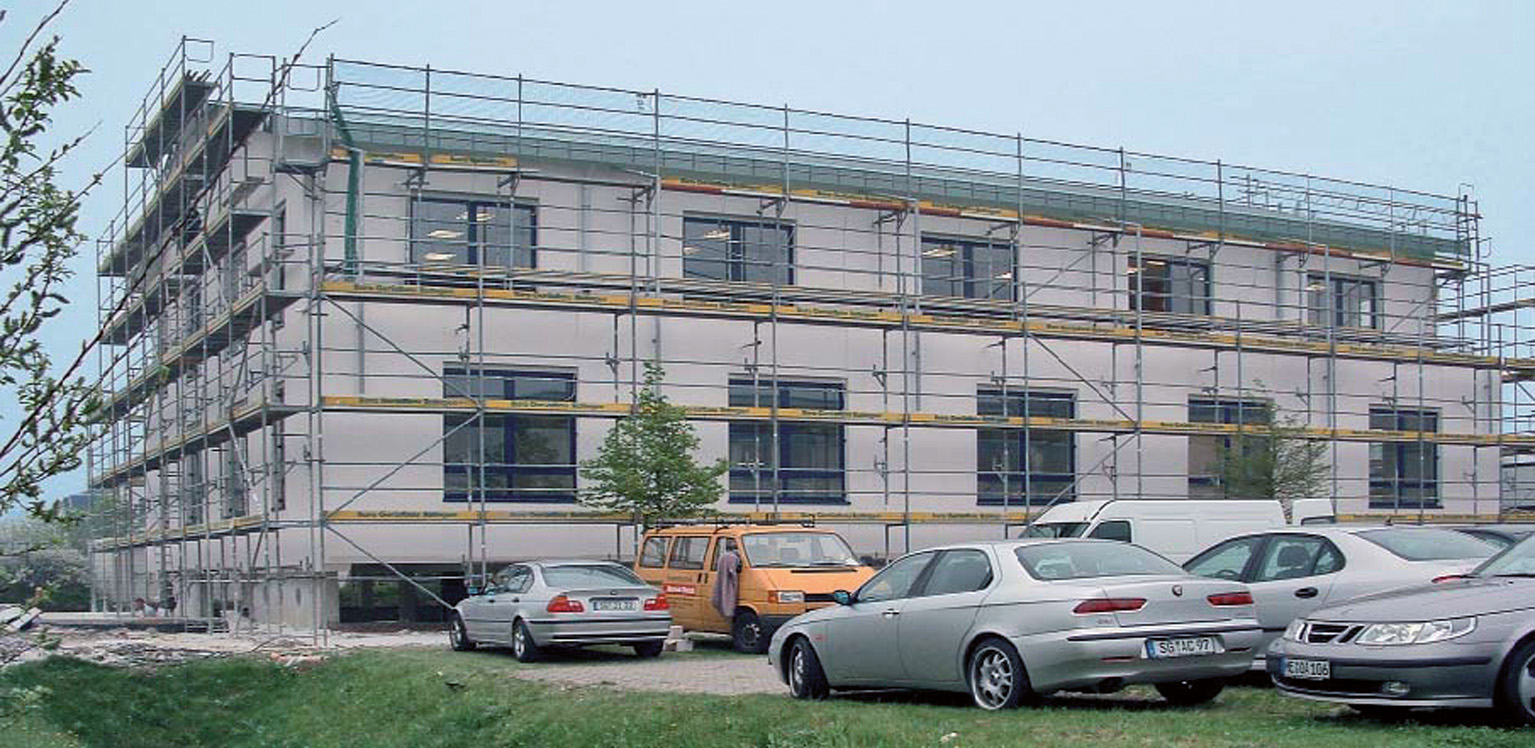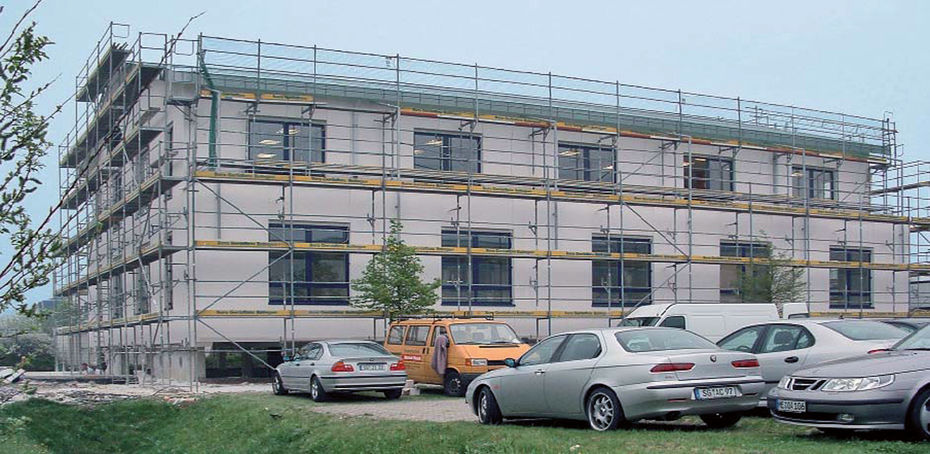 Restructuring to the three-pillar model
In 2005, redi's range of services is expanded. This is followed by a restructuring and the foundation of the redi-Group holding company. Two new companies are also brought to life in redi-Control and redi-Engineering. redi-Engineering specialises in quality management in supplier development, coaching, process and system audits, and outsourcing of specific areas of business. The company redi-Time, which provides temporary workers to cover peak production periods in the commercial and industrial spheres, is also founded. A new three-pillar concept, which is geared towards avoiding defects in addition to troubleshooting, emerges along with redi-Control GmbH, redi-Engineering GmbH and redi-Time GmbH.
Additionally, the company's old head office is bursting at the seams, and a new building is required. This results in a two-storey annexe of more than 1,200 square metres which provides space for new employees. The new building, which is connected to the old building via a passageway, is inaugurated on 29 April 2005.
The company also gains entry to the German Association of the Automotive Industry (VDA).
IMDS centre set up
To ensure the security and traceability for legal material regulations for components and vehicles, redi sets up an IMDS centre in Dresden in 2004.
»Employees in Need« Foundation set up
Alongside the setting up of more branches in Germany, such as the setting up of redi-Control Germany East in Dresden and the setting up of redi-Control Germany South in Unterföhring, Dagmar and Dieter Reitmeyer set up the "Employees in Need" Foundation in 2003. The aim of the foundation is to help employees who, through no fault of their own, are in personal or economic need.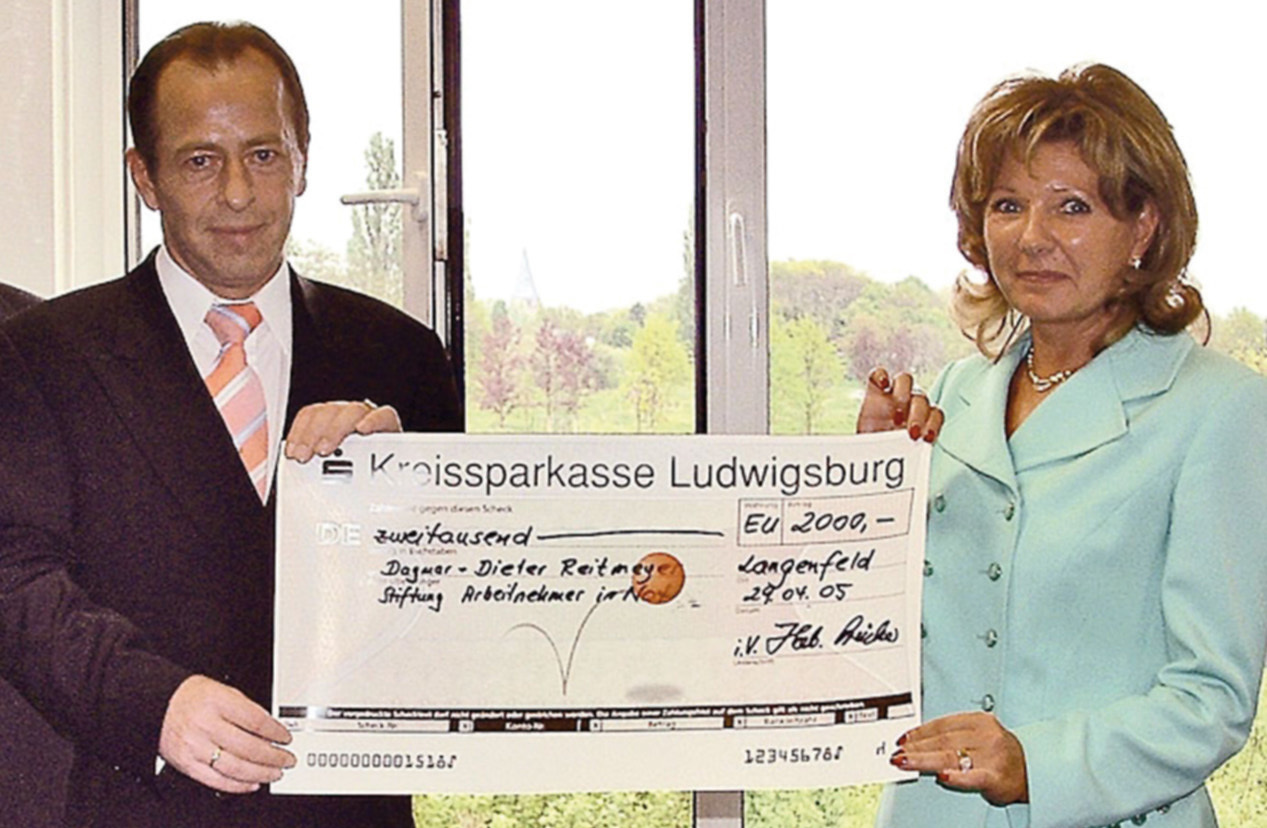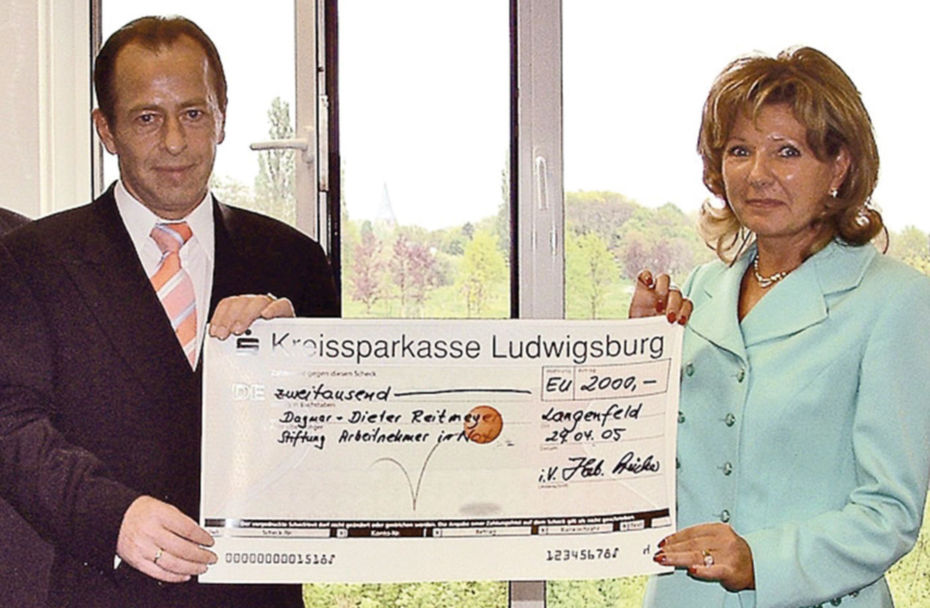 More branches and a Quality Centre
More branches and a Quality Centre are set up and opened in 2002:
redi-Control Germany North set up in Lilienthal (Germany)
Quality Centre opened in Lilienthal (Germany)
redi-Control Germany South-West set up in Böblingen (Germany)
New switch points for new growth
redi-Control is now on a good path, and the switch points for new growth are set up. So in 2001, the first Quality Centre is set up in Ludwigsfelde (Germany) and the first warehouse is set up in Döbeln (Germany). This makes it possible for customers to outsource their entire quality department from then on.
redi expands abroad
The first foreign branch is set up as redi-Control Austria in Vienna (Austria) in 2000.
New milestones
The company continues to develop at great pace. redi-Control soon has 40 employees.
Several important milestones for the company are reached in 1998.
For one thing, redi is voluntarily certified by TÜV Rhineland in accordance with DIN EN ISO 9001:1994 for the first time in May 1998.
Furthermore, the company is expanded to a nationwide system with branches all over Germany. So redi has a new unique selling point, and is now able to offer its customers the benefit of having just one reliable partner throughout Germany.
There was another moving event in the company's history in 1998: the groundbreaking ceremony for the company's new head office in Langenfeld. The office spaces being rented were quickly becoming too small due to the constant growth. The development of the new building on Elisabeth-Selbert-Straße 15 is completed in record time, and is inaugurated in March 1999. Thus the company's head office grows from 80 to more than 800 square metres.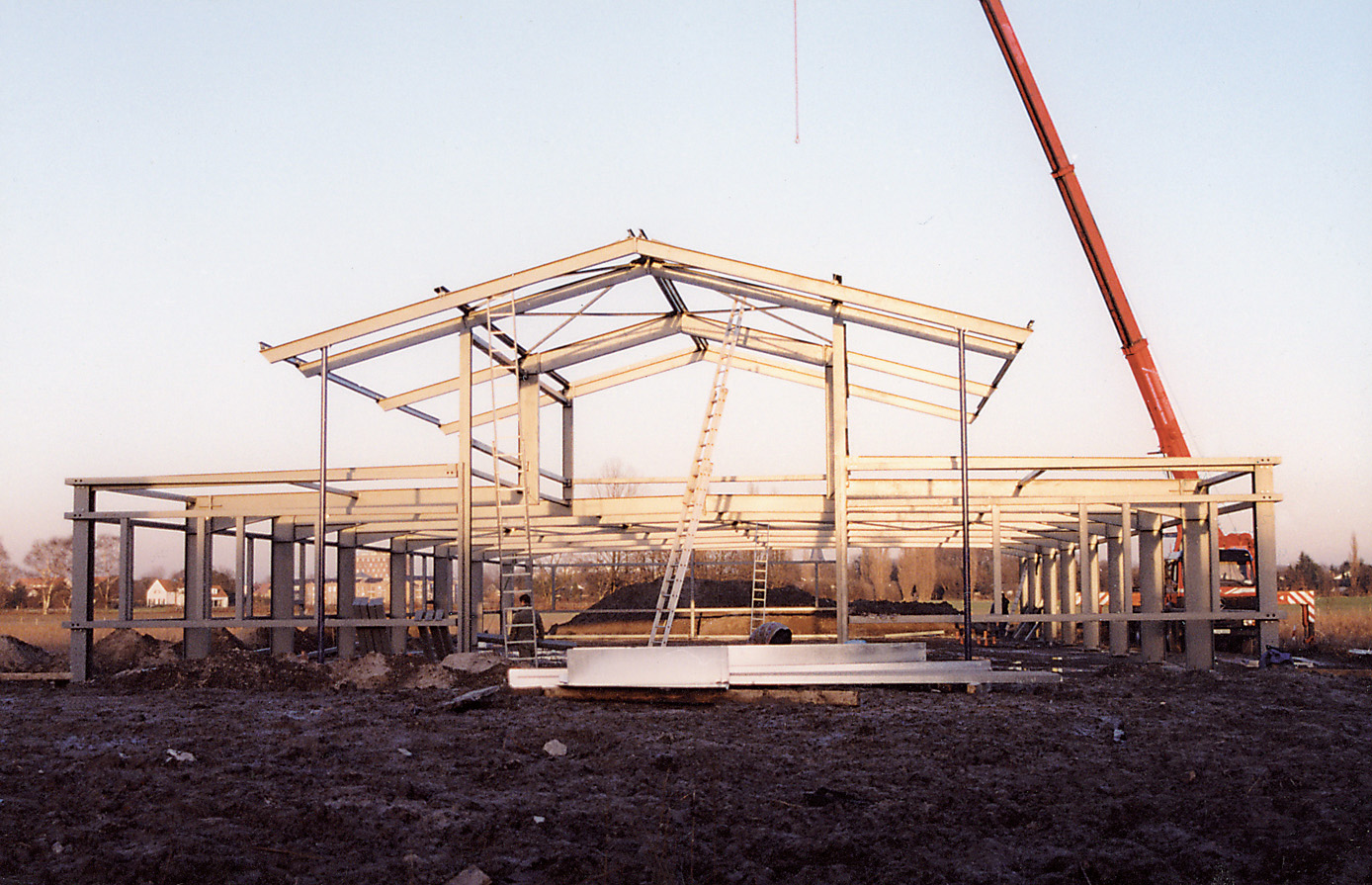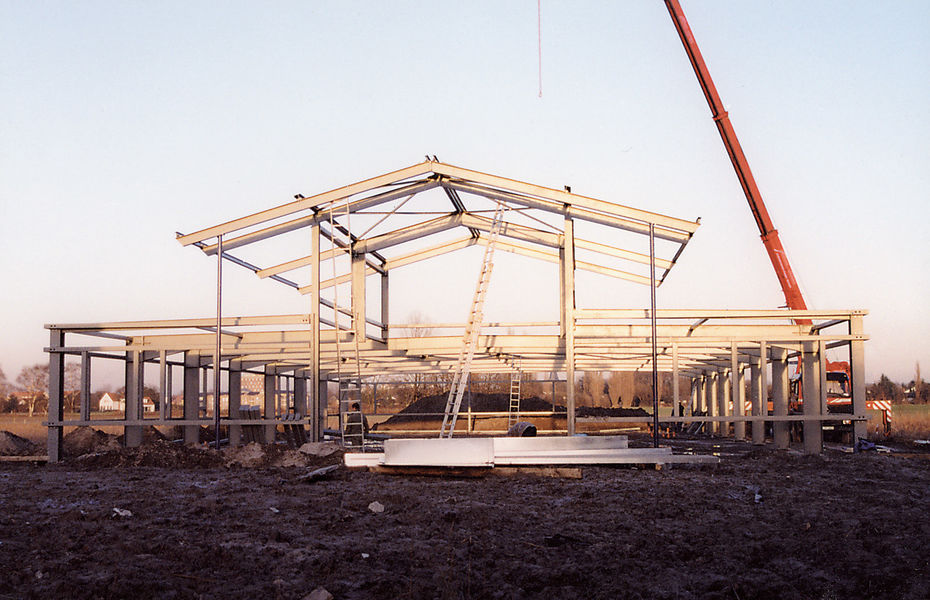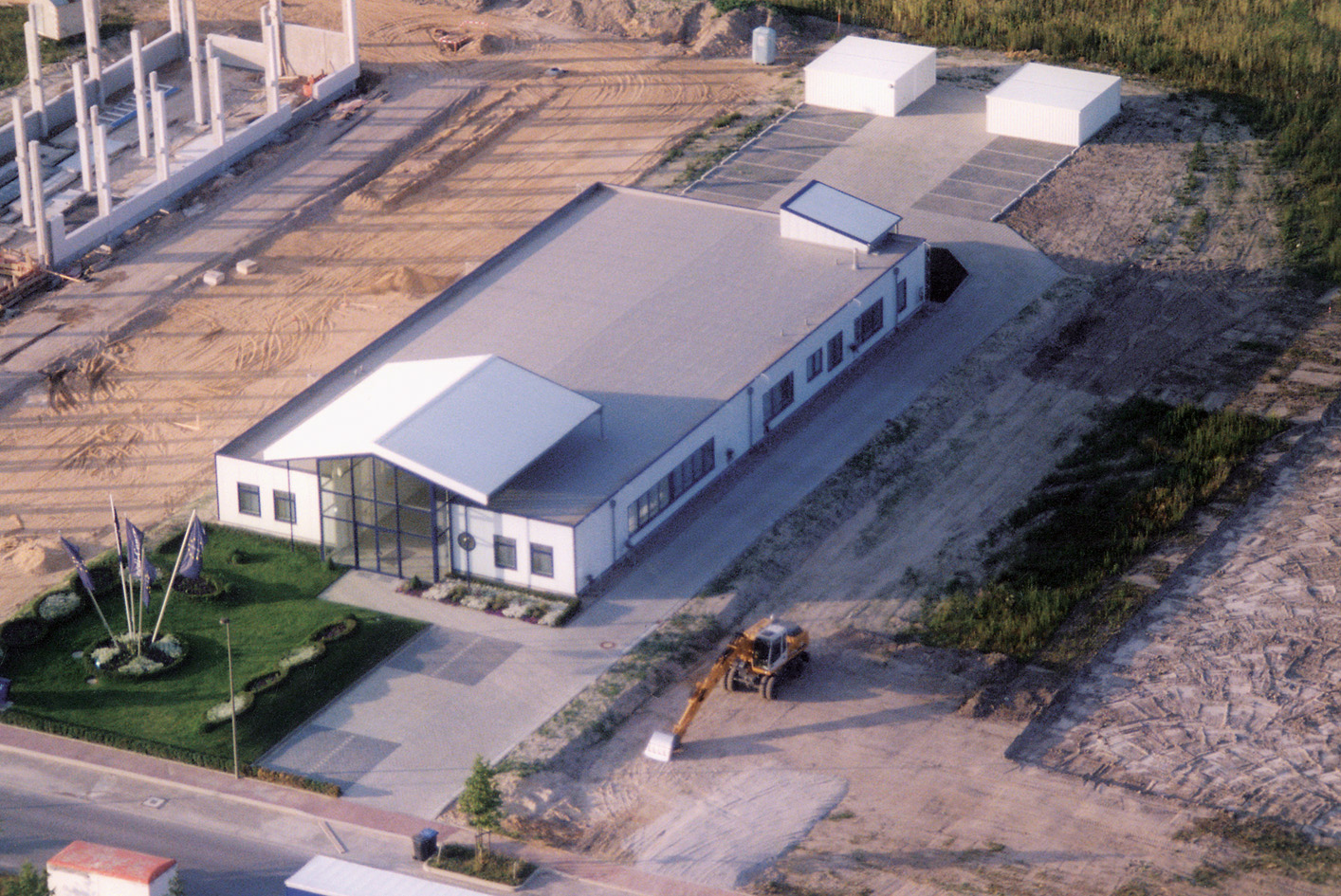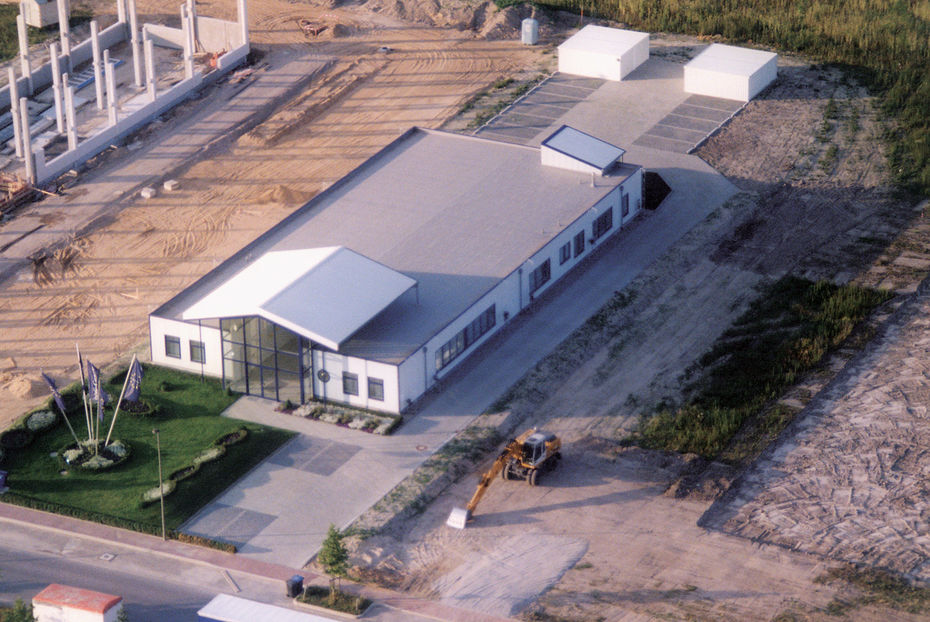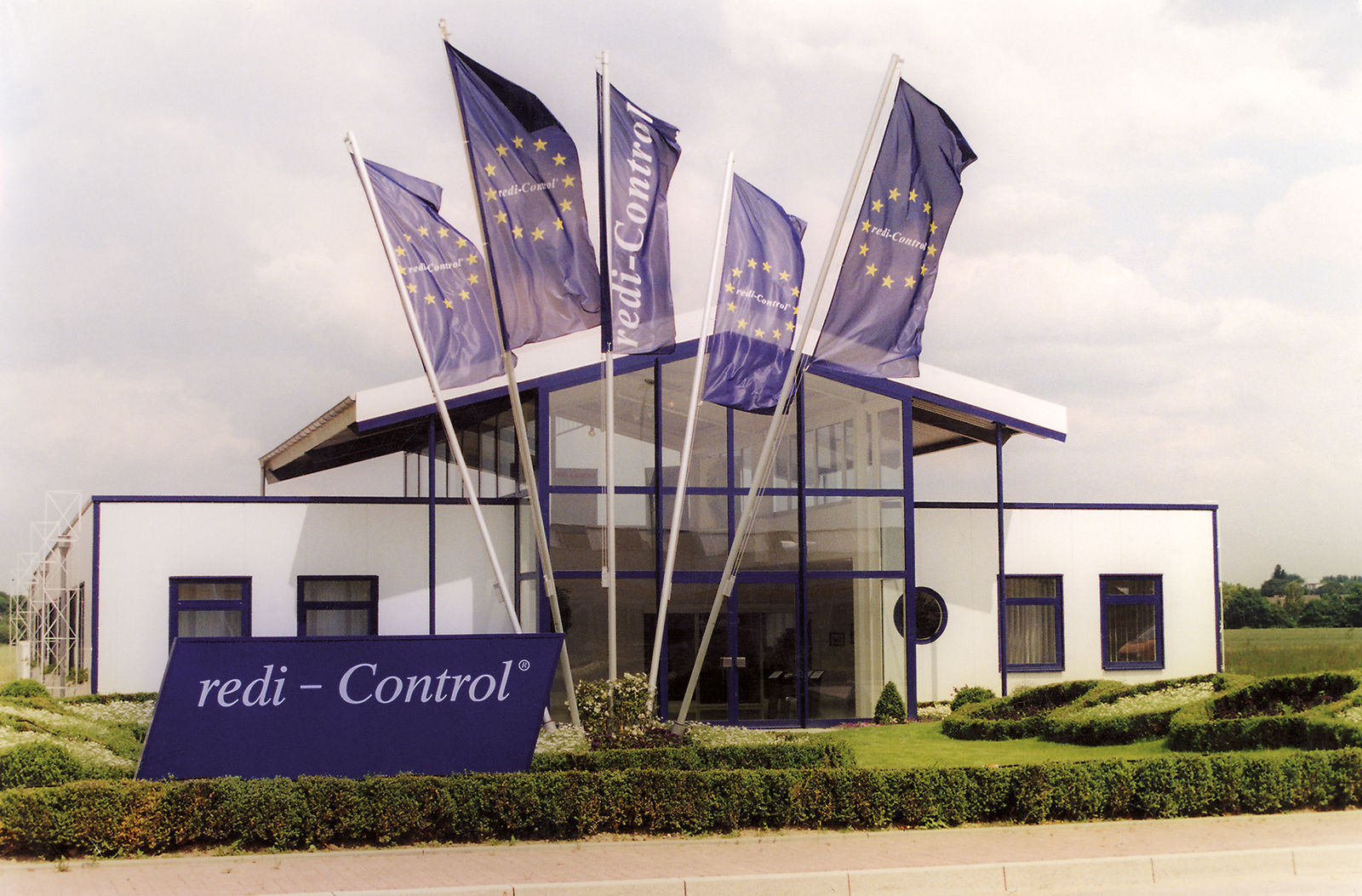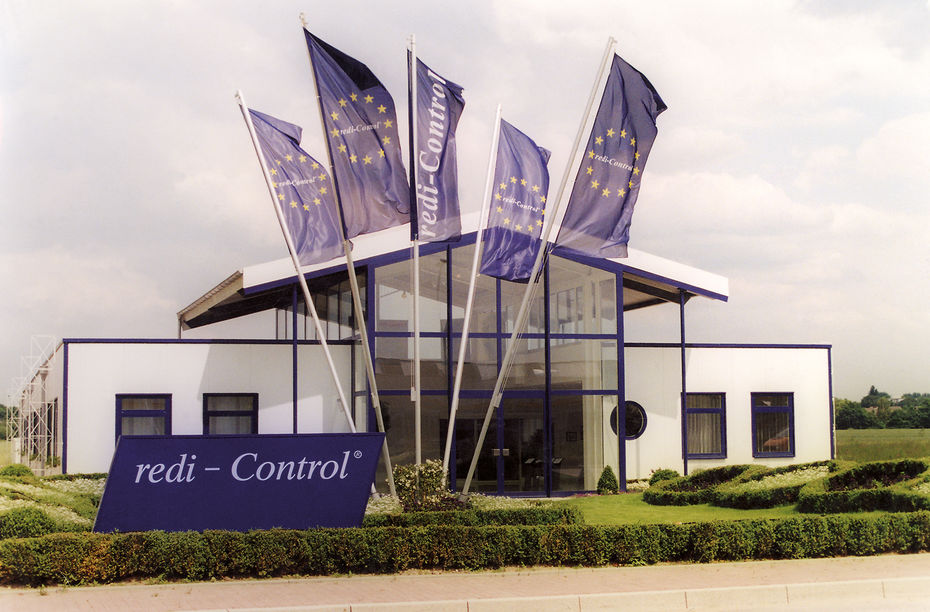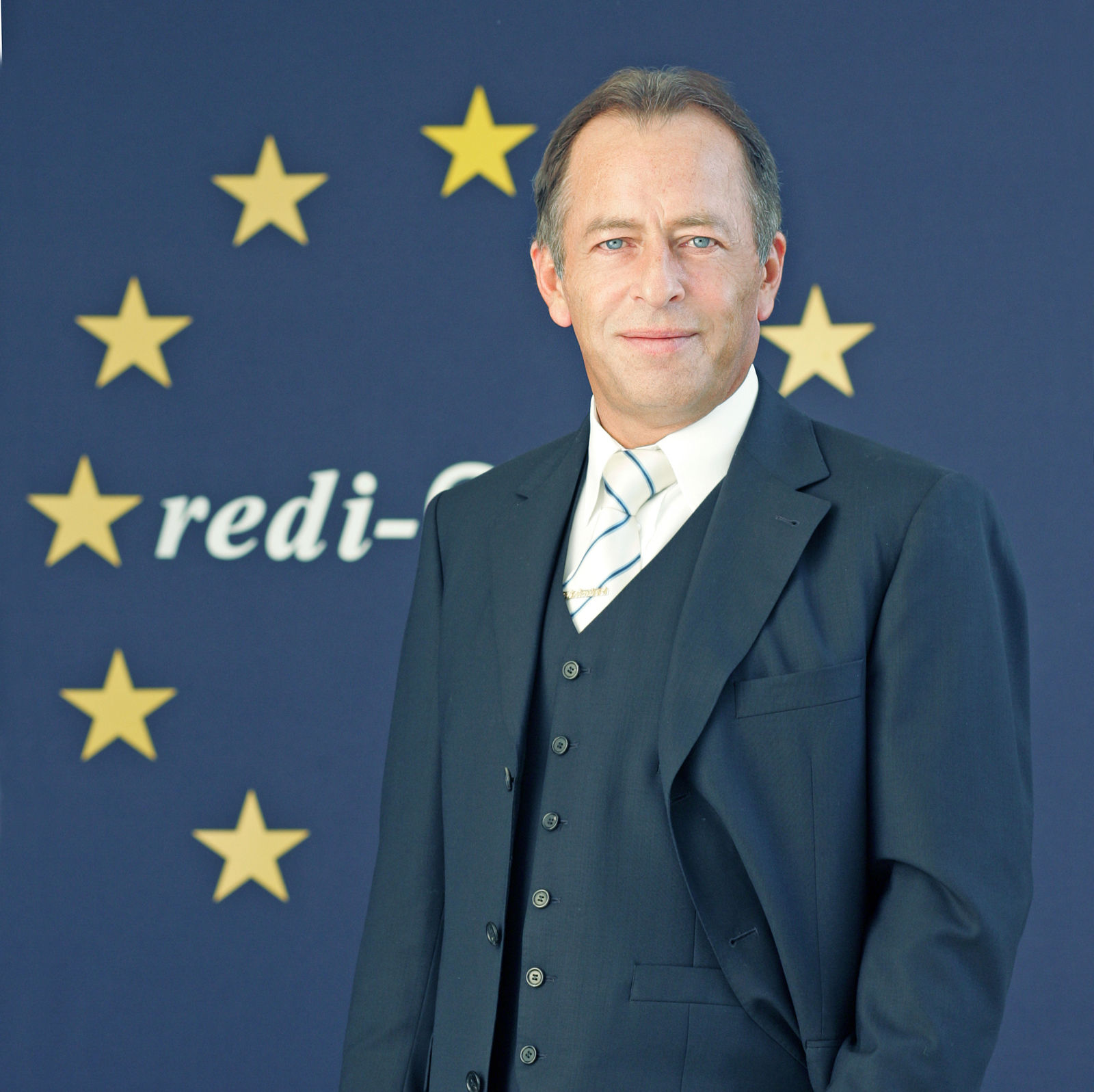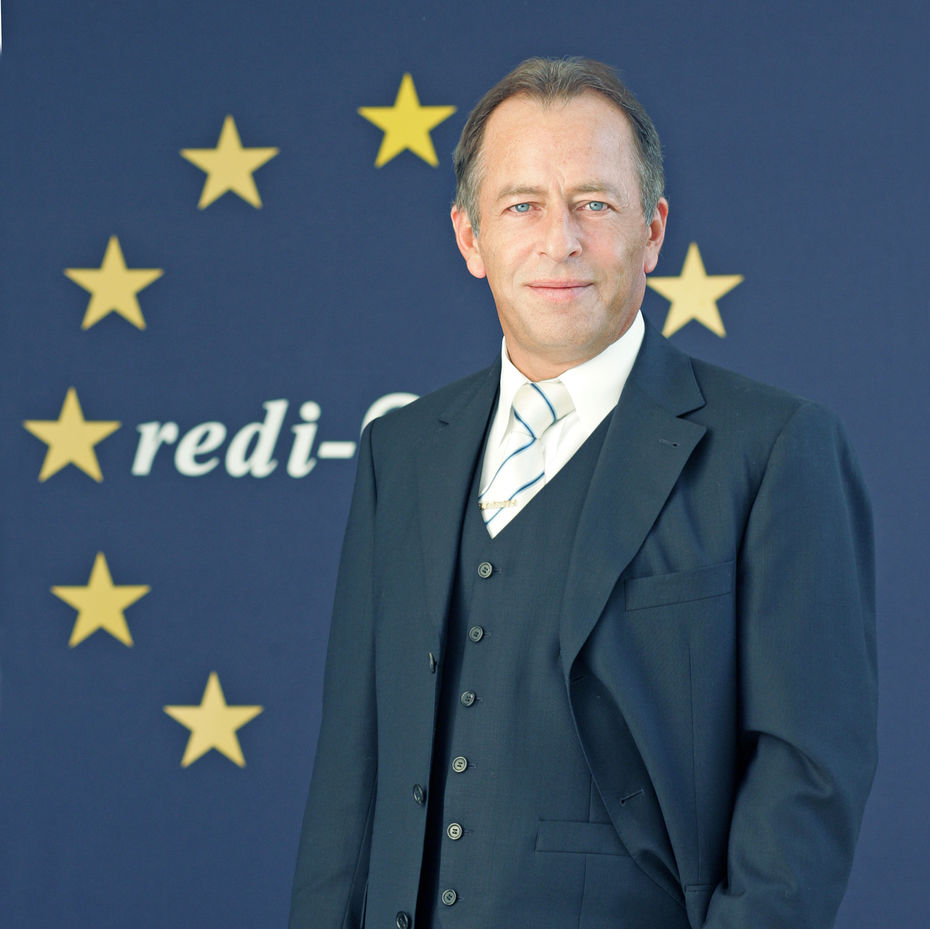 Foundation of redi-Control
On the lookout for a new professional challenge and inspired by his circle of friends, Dieter Reitmeyer founds redi-Control in 1996. "redi" stands for "Reitmeyer, Dieter" and "Control" reflects the company's area of operations. It all started as a one-man show. But the company starts to grow just a few months later, allowing the first members of staff to be employed. Due to the missing starting capital, Dieter Reitmeyer used the potential of people who appreciate true values. For this, he needed a really special group: people who retired early.
The number of jobs increased day by day, and soon the company is able to occupy its first head office in Langenfeld. All the jobs in the greater Düsseldorf area are covered from here.